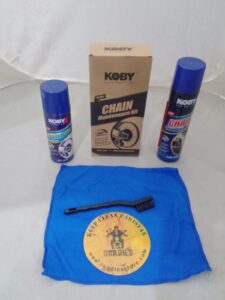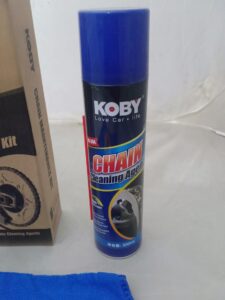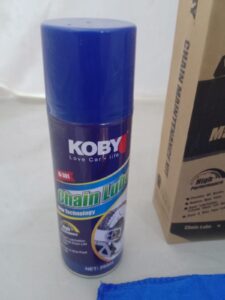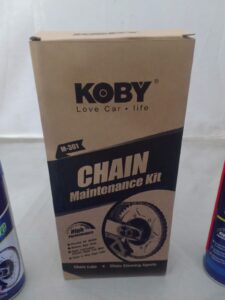 Combat corrosion
Resist fling off and wash out
Chemicals designed to fight off aggressive agents
Prolong chain life
Get rid of rattle and rust
Increase lifespan of all bikes
Notes : Do not spray while the chain is hot Clean chain with agant before lube Leave lube on for at least 2 hours
CHAIN & WIRE POPE LUBE
CHAIN LUBE 250ml (CAN BE USE ON O-RING & X-RING)
CHAIN CLEANING AGENTS 300ml
INSTANT DISSOLVED TO REMOVE GREASE
QUICKLY REMOVE STUBBORN RUSTY SPOT
Chain Cleaning kit package include
1 x 300ml chain cleaning AGANT
1 x 250ml chain lube
1 x Fibre cloth
1 x mini brush
Detailed instructions on cleaning and lubing your chain
1. Inspection:
You should be checking your chain and sprockets for damage, wear and free-play in adjustment before every ride.
Examine the free play on the bottom run of the drive chain, consulting the owner's handbook for advice on adjustment.
Check for tight spots by rotating the rear wheel. If it will not rotate freely then a new chain may be required.
Inspect the rear drive sprocket for wear, making sure that the apexes of the teeth are not curved. Check for any rust spots.
They are an indication for insufficient lubrication or poor corrosion protection of your chain spray.
2. Cleaning:
The chain should be cleaned before each lubrication, as the combination of dirt and grit with chain lube/grease can make a 'grinding paste', severely reducing chain life.
If that isn't possible, aim to clean the chain every 750-1000km
Avoid using high pressure jets or pressure washers, as the water can be forced inside the O, X or Z rings, and make sure the chain's completely dry before you lubricate.
3. Lubrication:
A motorcycle chain should be lubricated every 300-600 km to ensure peak performance and a long life.
Lubricate the chain after riding, not before.
This allows time for the solvents in the spray to evaporate before the bike is used again, and lets the lubricant penetrate the link properly.
Spray the chain with a thin and even coating of chain lube/grease. Aim the spray nozzle at the inside of the chain, rotating the wheel until you've covered three full revolutions of the chain.