OFF-Road Version Tubeless Timsun Tires Set For YBR-G / YBR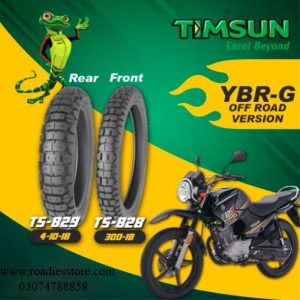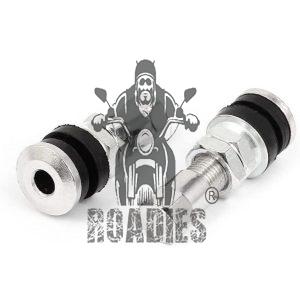 This Package Includes 4-10-18 TS-829 Rear Tire (can be Installed as Tubeless)  , 300-18 TS-828 Front Tire (can be Installed as Tubeless) along With 2 High Quality Tubeless Tire Nozzels in Just PKR 11500/= which is Kind Of Surreal isn't it ? That is One Of The Most Economical Package Crown Motor Sports Is Offering To Its Beloved Customers For Timsun Premium Tubeless Tires . No need to Mention But Following Packages & Discounts are Only For Online Customers & will Only Be Considered By Ordering On Website .
Now Coming To The Combination Of Tires Considering Riders With a Will Of Exploring , For The People who likes to take the routes which are less taken , For The Motorsports Maniacs , enthusiasts and the adventurers Yes I'm Talking About The Off Road Version Of Timsun Premium Tubeless Tires Of  Ybr\YbrG . From Uneven Routes Of Balochistan to Sandy Desert Of Cholistan, From Out Skirts Of Interior Sindh To Stony Mountains Of Skardu, From Sun Kissed Coastal Routes Of Ormara'Gawadar To Refreshing Fields And Plains Of Punjab, From Hot Desert Of Thar to Snowy Routes Of North , Ts-829 4-10-18 has proved its worth in every scenario In Every Road Less Corner of The Country . This Combination Of Tires Has been Tested By Numerous Riders In Different regions in Different Seasons and at different aspects and it came as the winner in every possible aspect against every tire other tire available in whole country in same or less price range . And If You aren't happy with potholes and cracked  Roads of Your City So its Just to let You Know We Have Riders Using Same Combination In Cities As well Cause as You Know Its Been a long now Since Last Time Roads Were Made in Sindh .