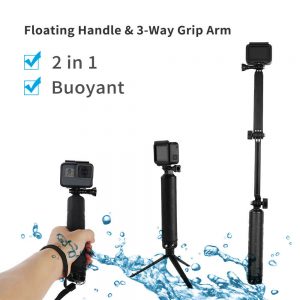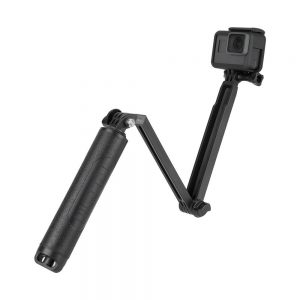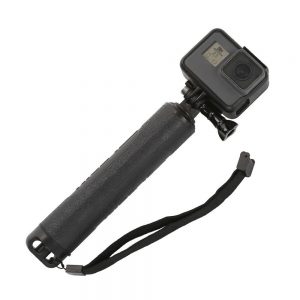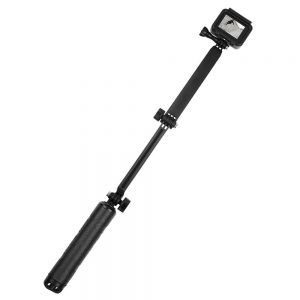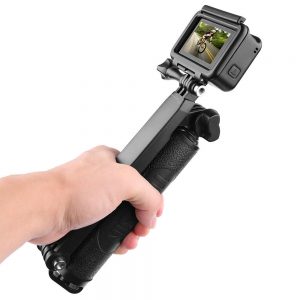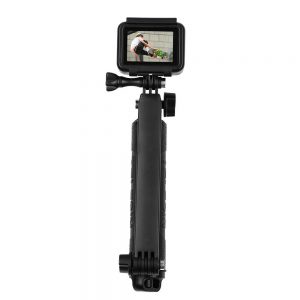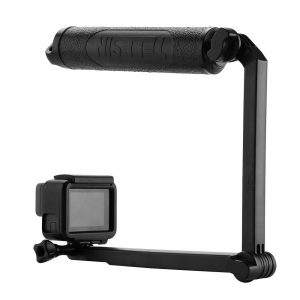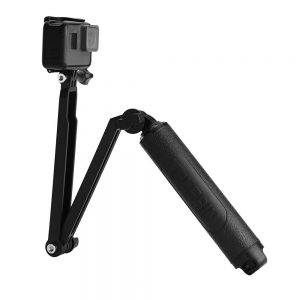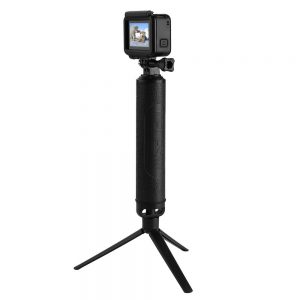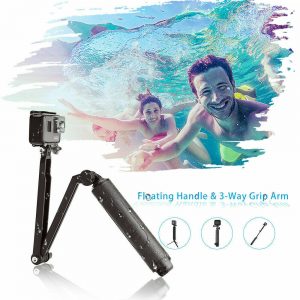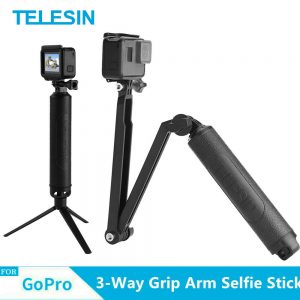 Specifications:
Material: Plastic
Extended  Length: 52cm
Floded Height: 20cm
Fits for GoPro Hero 7 Hero 6, Hero5, Hero 4, Hero 3+, Hero 3, Hero 2, SJCAM, Xiaomi Yi series, and other action cameras, etc.
Weight: 204g
Loading weight: 500g
Package Content:
1 x Monopod with Floating Handle
1 x Tripod Stand
1 x Thumb Screw
TELESIN Floating Bobber and  3-Way Extendable Handle Monopod Tripod Selfie Stick 2 in 1-TWO SOLUTIONS IN ONE: You can use this product as a Floating Hand Grip or as a 3-way Telescopic Pole. The locking and folding system allows you to adjust the pole length anywhere between 7.9″ and 20.5″.  Ideal for capturing both above and under water sports activities!
-FLOATS IN WATER: When you drop this floating hand grip/pole into the water, it will float. Alternatively you can add water to the hand grip compartment, so the bobber can achieve neutral buoyancy underwater.
-STORAGE COMPARTMENT: The cap on the bottom of the Floating Hand Grip can be unscrewed to reveal a hollow compartment that can be used to add water (to achieve neutral buoyancy underwater) or store small items.
-SECURE:  Upgraded TELESIN handgrip(Non-slip Floating Handle) prevents selfie stick and camera/cellphone from falling down and provides great stability, to make sure you photograph without worries.
-EXTRA FEATURES: Used with 3-Way Monopod Tripod Mount. This combination allows you to use the Floating Hand Grip/Selfie Stick as a 3-Way monopod on table/desk/floor,   extends the using way and meanwhile free your hands.
-MULTI-ANGLE: 180° Rotation helps to capture every wonderful moment.
Good choice for: Traveling, skiing, water skate, hiking, camping, the beach, riding, sports and water events.
Compatible with: GoPro Hero Series Sj4000 Sj4000 plus Sj5000 Sj6000 Amkov XiaoMi Yi AMK 5000 AMK 5000S Dazzne P2 Dazzne P3 EKEN H9 FIREFLY 5S FIREFLY 6S Polaroid Cube SJ7000 SJCAM 4000 plus SJCAM 5000 plus SJCAM M10 SJCAM M10 Plus Soocoo C10 Soocoo S60 and most other action cameras;