1. Dual-tone Loud: 135DB loudness, giving you a loud and clear sound to warn others. Our 12v speakers help you reduce unnecessary injuries and add a level of safety to your driving.
2. There is no bulky air compressor, only a small device that produces incredible sound! Its so compact, almost HALF of our customers buy and install 2 horns for double the loudness!
3. The unique mounting bracket design makes the installation firmer, and the bracket is universal, allowing you to install it in any position, it only requires 12V power supply and lower power consumption.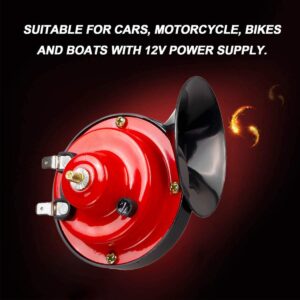 Speaker installation method
Unscrew the cover screws

remove the cover, you can see the original car speaker

Unplug the original car speaker and remove the original car speaker.

Fix the new speaker

the plug and the speaker connector can be docked

The opening of the speaker is facing downwards, pay attention to the waterproof treatment of the speaker.