SCS S9 Motorcycle Helmet Bluetooth Headset 2000m 6 Riders Intercoms with CVC Noise Cancellation Call Music FM
What you can get with SCS S-9?
Entertainment and auxiliary functions
Scenario One
Do you feel bored when you ride alone? Definitely, if you don't have an SCS S-9, you will hear engine noise besides wind noise, what a terrible feeling! But with SCS S-9, you can pair your phone to listen to music, make calls, and use Siri, it will be more fun!
Scenario Two
When you enjoy the beautiful scenery on the way, don't you want to talk with your companion to express your inner joy? Use SCS S-9 can achieve group intercom! Let your team travel full of joy!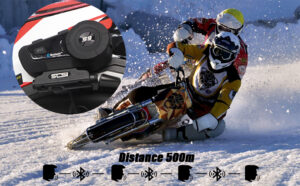 SCS S-9 can pair with 2 Bluetooth devices at the same time via Bluetooth

After pairing you can use music, phone, navigation, voice control, group intercom function

The hands-free function can better protect your riding safety, SCS S9 allows you to have more entertainment options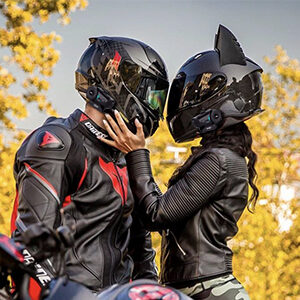 How to achieve clear intercom?
CVC noise reduction technology allows unimpeded communication
What are your biggest concerns when you decide to buy a intercom? There is no doubt that everyone is worried about the quality of the intercom, the ability to reduce noise, and whether the volume can cover the external noise. But with SCS S-9, you don't have to worry about such problems, even you are at speeds above 120KPH (75MPH), you can also communicate with your teammates! Why?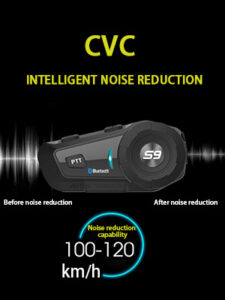 SCS S-9 has advanced CVC noise reduction technology that can effectively reduce various noises, such as wind noise, engine noise, car whistle, roadside noise

SCS S-9 has 40mm upgraded speakers, the super loud volume can completely cover the external noise, more high-definition sound quality allows you to enjoy music better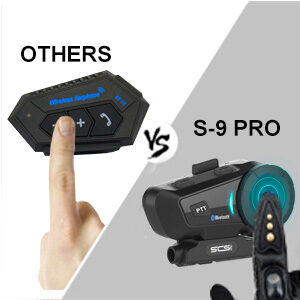 BIG BUTTON
Compared with other brands of intercoms, SCS S-9 has big buttons, so you can easily find it and operate it accurately even with gloves.

In the process of riding, convenient operation can ensure your safety, avoiding distractions caused by car accidents due to the small buttons.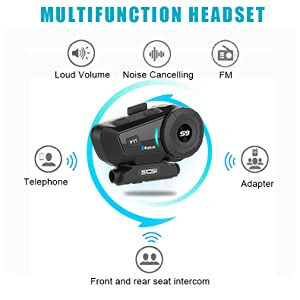 HIGH MATCHING
Since SCS S-9 has two modes of active pairing and passive pairing, it can be paired with most brands of intercoms on the market.

It can be paired with all mobile phones and use voice control functions, such as Siri (iPhone) and S Voice (Samsung) voice commands.

It can be paired with most GPS or other Bluetooth devices, only a few models are not available.
Note: Phone must support siri or google assistance
900mAh LARGE CAPACITY
The 900 mAh battery surpasses most intercoms on the market.

2 hours charging time

Supports upto 18hrs talk time.

Supports upto 160hrs standby time.

Easy operation to voice message to remind you power (over 90%, over 60%, lower 50% or lower 10%).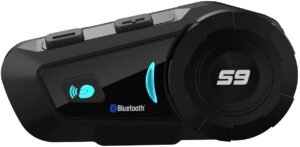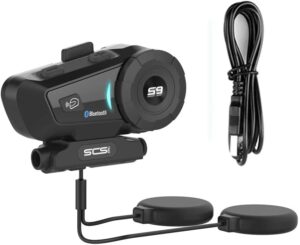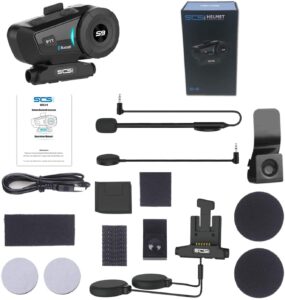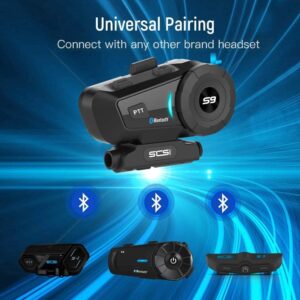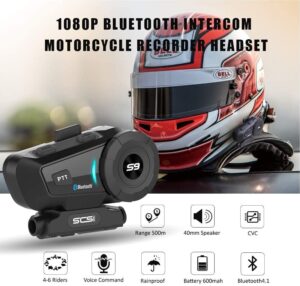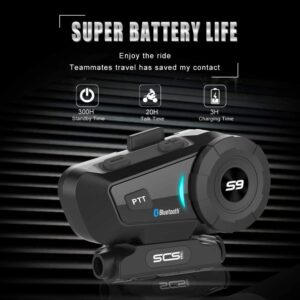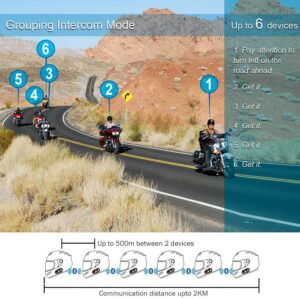 【High Performance For 6 Riders】 Capable for simultaneous connection of 6 riders, reaching a group communication range up to 1828yd, and 2 separate communication distance reaches 546.8yd. If you disconnect the group communication in 5 minutes, you can rejoin the group seamlessly; if more than 5 minutes, press one button to rejoin the group and stay connection.

【Crystal-Clear Sound Quality】 Featured by new 40mm HD speakers with advanced CVC technology for effective noise cancellation of both incoming and outgoing audio. The Bluetooth helmet intercom allows you to easily switch music from calls, ensuring crystal clear voice quality in a high speed.

【Hands-Free Communications and Other Functions】 For hands-free calling, S-9 wireless motorcycle headset enables to answer, hang up, refuse and redial phone calls. With this headphone, you can also enjoy music, get GPS directions, achieve voice command via Bluetooth, making your riding more enjoyable, safe and comfortable.

【 Lasting Power and Waterproof】S-9 motorbike communication system made from rainproof (IPX5 waterproof) and dustproof structure allows you to answer calls and listen to music while riding your motorcycle in all weather. With 900mAh lithium polymer battery, it's able to work for about 15 hours to ensure a long-time riding.

【Package Included】 Comes with 1 S-9 helmet Bluetooth intercom, 1 speaker, 1 microphone, 1 headphone, 1 USB charging cable, 2 sponge pads, 4 magic stickers, 1 silicone pad, 2 stickers, 1 clip and and 1 user manual