Coleman 62-Quart Xtreme 5-Day Cooler | Icebox with Wheels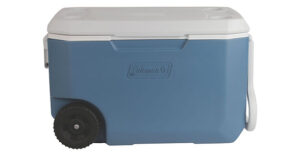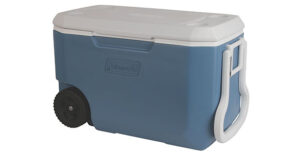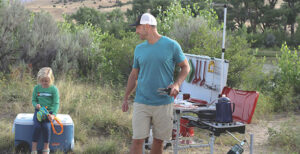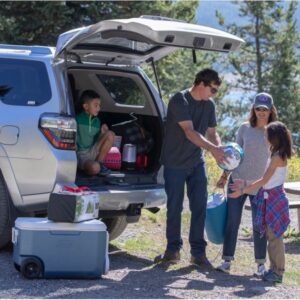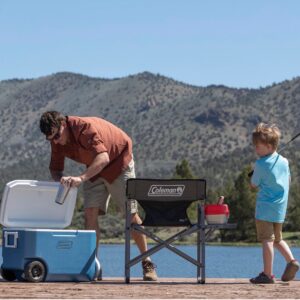 Keep your food and drinks cold for an extended time, and make the fun last longer, when you roll in with a Coleman® 62 Quart Xtreme® 5 Wheeled Cooler.
Xtreme® technology uses an insulated lid and extra insulation in the walls to keep your items cold for up to 5 days. Large enough to hold 95 cans, you'll have plenty of space for refreshments for a whole group of people.
Whether you're headed on a long weekend camping trip, a road trip, or across the ball field, the heavy-duty wheels and large tow handle let you roll over almost any terrain with hardly any effort. The additional 2-way handles make it easy to lift your cooler in and out of the car or onto a picnic bench.
Once you arrive, the Have-A-Seat™ lid will ensure you always have a place to sit and relax, and the cup holders molded into the lid will keep your cold drink close while you enjoy the day.
When the fun is done, the leak-resistant drain makes it easy to empty any excess water, so you're ready for your next fun adventure.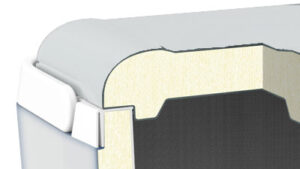 Thick, Premium PU Insulation
Tests show that cooling loss is 30% through the top and 30% through the base.
New models feature increased insulation in the lid and base, and reduced insulation onthe sides, resulting in smaller exterior dimensions yet retaining interior capacity and performance.
We uses polyurethane, the highest quality insulation material available on the market – utilizing up to 30% more insulation.