Motorcycle Seat Cushion For Cruisers, Dual Sports, Sport bikes, Standards, Sportbikes, Adventure touring and Harley etc.

How can this motorcycle air fillable cushion pad help you and your long ride?
Long time riding or short-distance travel always make people tired. Our cushion features interconnected airbags that disperse the rider's weight evenly, allowing the seat cushion to absorb and greatly reduce shock ruslting from road, terrain, and engine vibrations. This motorcycle cushion can help you enjoy your cycling trip more.
Features:
.Unique Inflatable Design: Built-in air cushion can be filled with air by our equipped pump to achieve shock absorption and ensure comfort.
.Stress Relief: Relieves the pressure point of your body and makes you sit more comfortable.
.Comfortable and Safe: It can prevent long-term pressure damage and ensure comfort and safety.
.Practical for Use: The front of the pad is also tapered to reduce unnecessary pressure on the front leg channel and relieve the vibration of the road surface and hip pressure.
.Made of TPU + Ly-cra with a breathable, stretchable outer cover and a non-slip base to protect your seat.
.Widely Applicable: Motorcycle universal type, suitable for common street bikes and sports bikes.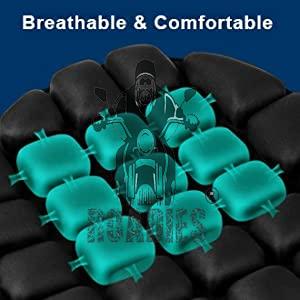 It's breathable, you will stay cool even you have been sedentary. It's comfortable, the air of each airbag circulation to reduce an evenly compressed "anti-gravity"effect, and the decompression feeling can reach 30%, greatly reducing the load and pressure of the tail vertebra.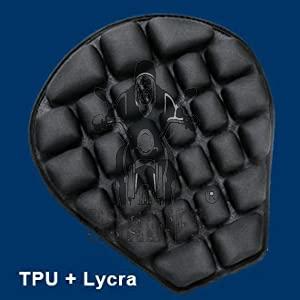 TPU fabrics has excellent elasticity and wear resistance, it's of high rebound and can be repeatedly washed, no deformation even after a period of time. Lycra elastic fabric feels soft, greatly improves the feel of the cushion and the recovery of crease, no maintenance required.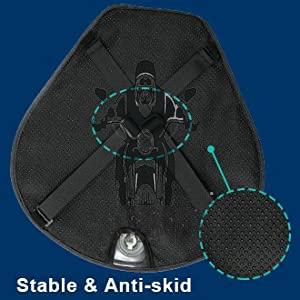 Anti-skid particles and double-bandage fixation, and adjustable bandage so that the cushion is suitable for motorcycles perfectly. Unique anti-skid particles can effectively prevents slippage. In addition, the air seat cushion is movable and you can fix it where you want.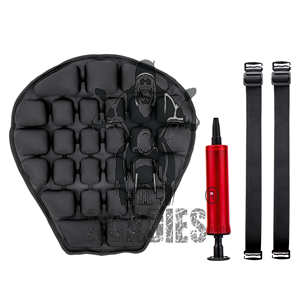 Packing List:
1 x Motorcycle Air Fillable Seat Cushion
1 x Mini Air Pump
2 x Straps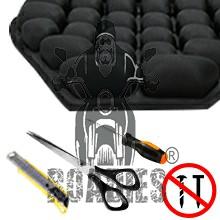 Do not touch any sharp goods.

Do not over inflate.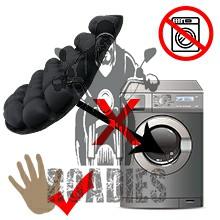 Do not wash by a washing machine.