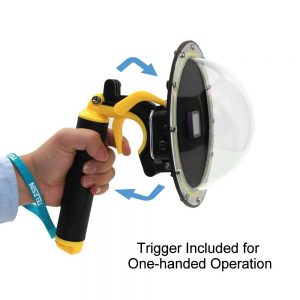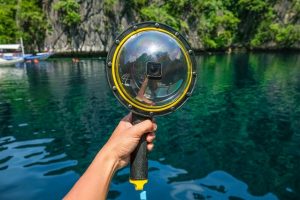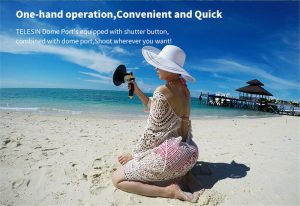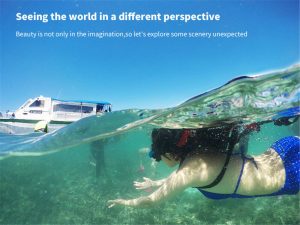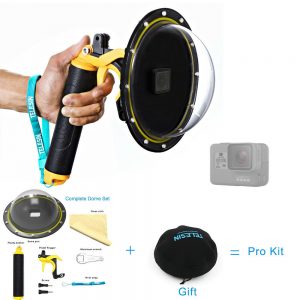 TELESIN 6″ Dome Port Cover with Waterproof CaseHousing Floating Handle Pistol Trigger for GoPro Hero 5 Hero 6 Hero 7(2019) Dome Lens Accessories
【 TELESIN DOME PORT 】
The TELESIN T05 semi-hemispherical 6" dome port is one of the most advanced accessories available for the GoPro.
Moving the waterline away from the lens makes it possible to capture images both above and below the water simultaneously. These are often referred to as half and half, 50/50, over under or split-level pictures.
The simplicity of operation, nearly infinite depth of field, wide-angle lens and video and still image quality make the Hero5/6 perfectly suited for this application.
The T05 utilizes a custom made semi-hemispherical dome that has been optically matched to work with the Hero5/6/7 lens.
The use of a semi-hemispherical dome eliminates the perpendicular angle between the backing plate and the dome. The benefits of this are the elimination of circular reflection and improved water sheeting while reducing the form factor and maintaining full front face surface area.
The side of the base has 12 screws, this design allows the dome to be fully disassembled for cleaning and service.
The camera is just as secure as always since the Dome Port slips right onto the housing, it does not alter the depth rating of the housing.
The Dome Port provides access to mode, power and shutter control buttons while installed, for more processing you can use a WIFI remote control as well.
The Dome Port comes with the waterproof housing for Hero 5/Hero 6 7 and does not require any special modifications or separate accessories.
Apply for: GoPro Hero 5,Hero 6 Hero 7(2018)
【TELESIN 8 inch Floating Hand Grip】
Light-weight and lengthen grip with a lenth of 8″(200mm)
For increased shooting possibilities, the top of the mount attached a 1/4 tripod adapter
Super-Comfortable TPE Grip, excellent soft touch, skidproof and labor-saving
Floating in Water/Use in Land:  When you drop this floating hand grip/pole into the water, it will float. Its bright color will make it easy to spot, you can capture the any angle and stable
sight when you are snorkeling, swimming or scuba. Also can use as a normal floating hand grip when use in Land. Notice: water may be go inside the stick, but it doesn't affect the function, just air-dry it when not in use
STORAGE COMPARTMENT: The cap on the bottom of the Floating Hand Grip can be unscrewed to reveal a hollow compartment that can be used to add water (to achieve neutral buoyancy underwater) or store small items.
SECURE: Upgraded TELESIN handgrip(Non-slip Floating Handle) prevents selfie stick and camera from falling down and provides great stability, to make sure you photograph without worries.
EXTRA FEATURES: The adjustable Wrist Strap provides greater Security of your Action Camera.This Floating Hand Grip works with most action camera in a waterproof case that with a 1/4 mount adapter, such as Hero and Xiaomi YI, SJCAM, etc.
【Pistol Trigger】
2 IN 1 DESIGN: With different accessories including the buoyancy floating bobber and screws, easy to change the combination makes you don't have to worry about any damage.
ONE HANDED OPERATION: All in one structure shutter trigger design makes you easy and convenient to take photos by touching the wrench compare to the old design which doesn't have shutter trigger needs another hand to finish, enables you to take the perfect picture with a steady hand and can also be transformed into a floating handle when you need it
FLEXIBLE: The pistol trigger shutter is designed to work with most of floating bobber handle models in the current market. Works with most action cameras in waterproof housing case and smartphones(with phone calmp holder).
【Anti-fog Inserts】
Reusable. Preventing your GoPro camera housing from fogging. Dry it naturally, you can use again. Easy to use, just insert at both sides of the protective waterproof housing.
Suitable for diving, climbing, surfing and aerial photographing.
Package Content
Super Kit:
1 x TELESIN T05 Dome Port
1 x TELESIN Floating Hand Grip
1 x Clean Cloth
1 x Trigger Shutter
2 x Screws
1 x Wrench
1 x Protective Dome Cover Bag
6pcs x Anti-fog Inserts